How do I adjust my Spam Settings?
Spam settings can be updated after logging into your mail settings or from either webmail.
Webmail Lite

From Webmail Lite you click Options in the top menu:

Then click on Anti-Spam and Virus Settings:

Tuxedo

In Tuxedo click on Spam Settings:

Mail Settings

Login to Mail Settings

and then click Spam Management.
Once you are logged in you can change the level of spam filtering: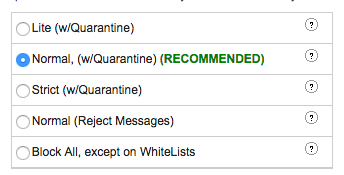 Lite (w/Quarantine)-

The lowest level of spam filtering. More likely for spam to get to your inbox but less likely for false positives. The most lenient settings available. Messages will be saved in the Spam Folder.

Normal (w/Quarantine) -

Our recommended setting. Most spam will be caught in the Spam folder.

Strict (w/Quarantine) -

More mail sent to the Spam folder. Use this setting when you receive to many spam messages to your Inbox.

Normal (Reject Messages) -

Same settings as Normal but messages will be rejected and not saved in the Spam folder. False positives will be deleted.

Block All, except on Whitelists -

All messages will go to the Spam folder unless the sender has explicitly been added to the white list.
You can also turn off all spam filtering by clicking the "Spam Enabled" button. All messages will go directly to your Inbox with no filtering.